CRAFT Innovative architecture is bringing form to the function of 21st-century learning.
By Jennifer Demski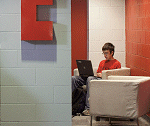 IN her first visit with the design team for the new high school she would be presiding over, Principal Tabitha Branum was blunt about what needed to be done. "When I met with them for the first time," she says, "I said, 'You tell me where I can knock down any and all walls. You tell me what's not load bearing, because I'm gonna knock those walls down.'"
The mission was to transform what had been a traditional elementary school site into an academy-style high school, replicating a newfangled school architectural model that enables 21st-century skills to thrive. Studio-style open spaces that recall the aesthetics of a corporate loft would replace the right angles and enclosed environment of the brick-and-mortar classroom. "The entire infrastructure of what was inside the four walls had to go," Branum says. "We had to be willing to let go of any existing room– size, dimensions, everything."
The construction of New Tech High at Coppell, in Coppell, TX, would take eight weeks, completed in time for the 2008-2009 school year and producing an example of how workplace design principles can be coordinated with modern educational goals. The campus was built on the model of New Technology High School in Napa, CA, the flagship campus for the New Technology Foundation's network of schools. The foundation, a nonprofit organization founded in 1999, promotes project-based learning supported by a 1-to-1 computing mandate at each of its campuses, which each house no more than 500 students. Coppell Independent School District spent a year researching academy-style schools around the country, in places such as Arizona, Nevada, California, and Ohio.
"In the end, we kept coming back to the New Tech schools," says Branum, former assistant principal of the district's other high school, Coppell High School. "They truly exemplify the 21st-century skills that we wanted for our students. The New Tech model was the only one that could actually deliver that."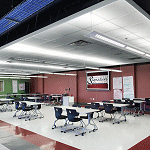 MOVING PARTS
Portable desks allow classrooms at Columbus Signature Academy to quickly convert from direct instruction to small-group collaboration.
With their emphasis on transparent, glass-walled classrooms within which collaborative lessons are carried out not by teacher and student but facilitator and learner, the New Tech schools depart sharply from traditional schoolhouses. To prepare for this shift in educational culture, the foundation recommends that districts adopting its methodology designate an entirely separate location at which to build the new school.
"When you separate the students into a new building, you're able to facilitate this culture much more rapidly and much more effectively than if you were trying to do it inside an existing high school, where students are mixing in common areas with students and teachers who are in a traditional model," says Shannon Buerk, an education design strategist with Cambridge Strategic Services, which has consulted on multiple New Tech projects, including Coppell. "It's hard to create this real student-driven, collaborative culture inside a traditional high school."
A decision made by Coppell early on in the campus' construction created possibilities never available during the building of the other New Tech sites. The technology had progressed enough to allow Coppell to meet the 1-to-1 computing requirement with wireless laptops rather than the plugged-in desktops the other New Tech schools used. This was a major step forward, says Kevin Gant, a school development coach for the New Technology Foundation, because it allowed a basic element of the group's 21st-century ethos to flourish.
---